Last week, the Science Council released a list of their '100 leading practising scientists'. Their aim in publishing the list was to 'highlight a collective blind spot in the approach of government, media and public to science, which either tends to reference dead people or to regard only academics and researchers as scientists.'
The Science Council is an umbrella that brings together 41 learned societies or professional bodies, including the Institute of Physics, the Society of Biology and of course, the Royal Society of Chemistry. To arrive at their list, member organisations were invited to nominate individuals who 'who are currently engaged with UK science that other scientists might look to for leadership in their sector or career'. They then convened a representative judging panel to knock it down to a round 100.
The Chemistry World team looked through the list and realised that it contained a number of familiar names (perhaps no surprise, as the Royal Society of Chemistry is one of the organisations called upon to nominate), so we thought we would highlight some of the Science Council's top 100, explaining how and why they appeared in the pages of Chemistry World…
---
Not only the winner of the 2008 Chemistry World Entrepreneur of the year for his role in the spin-out company Oxford Nanopore, Bayley's work has been highlighted in our news and feature articles over the years. Here he's recognised for 'ground breaking research into the structures and properties of biological molecules', including engineered membrane proteins that may allow for affordable and reliable DNA sequencing. He also joined us on the Chemistry World podcast to talk about his work 3D printing tissue-like materials.
---
The Science Council recognise Cronin as someone whose star is in the ascendant, and he's certainly not coy about his ambitions.
In a feature on the origins of life, we discussed Cronin's work on self-assembly and self-organisation but he's also graced our pages for 3D printing bespoke labware and even miniaturised fluidic devices. His productive team at the University of Glasgow have also published on efficient electrolysis systems for production of useable hydrogen gas.
---
As one of the fathers of graphene , Geim's work turns up in almost every edition of Chemistry World since he jointly won the Nobel Prize in Physics with Konstantin Novoselov in 2010. Although the news is not always good, new understanding and potential applications of graphene are regularly published in the scientific literature. From fluid filters, transparent loudspeakers, carbon capture devices, and antimicrobials, we try to keep abreast of the range of applications.
---
The idea of working with biting insects may make your skin crawl, but John Pickett has been at Rothamsted Research for over 30 years, investigating what it is that makes some people so appealing to pests, while others seem to remain bite free. His work on volatile chemicals and their interactions with insects have regularly made our news pages.
---
Christopher Evans
Biotech entrepreneur and microbiologist turned biochemist Christopher Evans may not feature in the magazine for groundbreaking science, but he has a significant impact behind the scenes through investment and entrepreneurship. As well as heading up the Merlin investment partnership, Evans campaigns for more public-private partnerships in science funding. He certainly made his mark on our own Bibiana Campos-Seijo when she met him, according to her editorial in April 2012.
---
Recognised here for 'his work in the applications of chemistry to biological and medical sciences and as the principal inventor of the leading next generation DNA sequencing methodology', we've featured Balasubramanian's work on sequencing and epigenetics, as well as his successful bids to secure conspicuous amounts of funding for multidisciplinary work.
---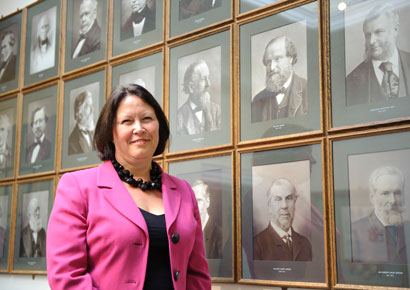 The Royal Society of Chemistry were delighted to see their first female president included in the 'communicators' section of the science council's list, as Yellowlees has been outspoken on issues surrounding science policy, funding and diversity. The election of the first female president of the Royal Society of Chemistry 'made a big impact,' she told Laura Howes for our feature on women in science, 'but in a way it's a shame that it was worthy of remark.' She is recognised by the science council for 'being a public champion for more women in science', and has helped Chemistry World look back at the history of chemistry at Edinburgh university, where she is head of the science faculty.
---
As an engaging science communicator with a PhD in thermoelectronics and one of the Royal Society of Chemistry's 175 faces, it's perhaps unsurprising that Gallagher has graced our pages, most recently with an insightful analysis of the countries of origin for each of the elements of the periodic table.
He's also a passionate advocate of equality and diversity in science, telling the Royal Society of Chemistry that 'science is for everyone and we have hundreds of years of history to correct, we are making fast progress but until equality is achieved across the board, until anyone who wants to pursue science has that ability then we must continue to fight.'
---
The value of education is highlighted by the science council selecting 10 'teacher scientists', including John Holman, who in addition to being emeritus professor in the department of chemistry at the University of York, is a senior fellow in education at the Wellcome Trust. He has written for Chemistry World on trends in high school chemistry teaching, and was the first director of the National Science Learning Centre in York.
---
Last but not least is Peter Wothers, a teaching fellow at the department of chemistry, University of Cambridge. The science council recognise him for 'his role in helping to bridge the transition between sixth-form and university through his leadership in developing the syllabus for the Chemistry Pre-University qualification', but Wothers is a renowned science communicator, performing to packed houses at the Cambridge Science Festival and delivering the 2012 Royal Institution Christmas lectures. This hasn't stopped him from finding time to contribute to a Chemistry World feature on 'inspiring the next generation', being profiled in our jobs pages and telling the stories of compounds on the Chemistry in its Element podcast.
Chart-topping UK scientists

,