There is no 'significant relationship' between the numbers of graduates from Stem (science, technology, engineering and maths) subjects and economic growth, according to a recent study conducted by Paul Whiteley, professor of politics at the University of Essex, UK.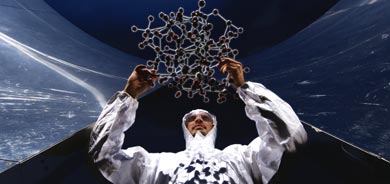 — © European community, 2006
The results fly in the face of pronouncements made by Lord Mandelson in January, when he was the UK's business secretary, that Stem graduates would be 'crucial in securing future prosperity'.
According to an article by Ann Mroz in the Times Higher Education, 'the government is mistaken to continue arguing that science graduates alone are the key to delivering economic growth'. She also welcomes Whiteley's analysis that shows that while increased numbers of Stem graduates  do not correlate to increased economic growth, the total number of graduates – regardless of which subject they study – does influence economic growth.
Whiteley told Chemistry World that 'when you look at advanced industrial countries enrolling more students in higher education does promote economic growth, so when you look at those countries with high enrolments they do better than those with lower levels of enrolment.'
But, he continued by saying 'if you then try to look at broadly defined subjects there is no relationship between subject and growth – be that science or arts.'
But if a country feels it has a need to increase its presence in a certain industry then it needs to encourage more students to take subjects that will provide the workforce to let it grow and that 'to boost the chemical industry you need chemists not lawyers,' says Whiteley.
When asked about Lord Dyson's 'Ingenious Britain' report into the role of high-tech research and manufacturing in the UK's economy, Whiteley said that 'anything that helps to get graduates into jobs, whether it's the in the city, engineering or science, is an excellent idea because it will stimulate growth if you get more people into jobs, but there is no evidence that by emphasising science will do that better than emphasising jobs for graduates in general.'
So maybe the government's push to boost Stem graduates is really a push to reduce the UK's reliance on the financial services sector – which, as the credit crunch has proved, is not as stable as it was perhaps perceived to be. But for that investment to pay dividends, the government needs to ensure the country is an attractive place for employers of Stem graduates to base themselves.
Matt Wilkinson