Despite having fallen off most people's radars, the Chinese baby milk crisis appears to still be continuing after Chinese police arrested six people for adulterating milk powder with melamine. A further 41 people have been detained for allegedly participating in the production and distribution of melamine-tainted milk powder and 227 tonnes of milk powder were seized.
The crisis came to light in 2008 when children in China were poisoned by the contaminated milk. According to Chinese state-run media more than 300,000 children were poisoned and at least six died.
PHARMACEUTICALS
Roche's retail therapy
Swiss pharma giant Roche has turned to retail therapy to recover from the disappointment of the UK's National Institutes of Health Clinical Excellence (Nice) once again turning down its cancer therapy Avastin (bevacizumab) for use by the UK's National Health Service as it has 'to be confident that the benefits justify the considerable cost of this drug' – this time for bowel cancer.
Its first move saw the company spend $100 million (£65 million) to buy digital pathology company BioImagene to aid its drive into the personalised healthcare market.
'As part of the personalised healthcare approach, pathologists are increasingly involved in generating information with high impact on treatment decisions, said Daniel O'Day, chief operating officer of Roche's diagnostics business. 'The increasing complexity of new tests and technologies creates tremendous need for more sophisticated tools for tissue analysis and diagnosis. BioImagene products will complement and strengthen our current offering in image analysis and information management.'
Roche has also signed a deal with US-based Aileron Therapeutics to gain access to its stapled peptide technologies. The agreement will see Roche provide Aileron at least $25 million to support its research and development efforts, and if it manages to successfully bring drugs to the market against targets in the oncology, virology, inflammation, metabolism and central nervous system arenas Aileron could receive up to $1.1 billion.
'Roche is dedicated to advancing innovative therapies, and stapled peptides represent a potentially transformative new technology to create drugs for important disease targets that are intractable to currently available modalities,' said Jean-Jacques Garaud, global head of Roche Pharma research and early development. 'This collaboration with Aileron is a strategically important endeavour for advancing a novel approach to developing new medicines and will accelerate our progress toward our ultimate goal of bringing important new treatments to patients with unmet medical needs.'
It's not jazzy
The Joint Advisory Committee of the US Food and Drug Administration (FDA) has recommended the FDA not to approve Jazz Pharmaceutical's JZP-6 (sodium oxybate) for the treatment of fibromyalgia (muscle and connective tissue pain).
The committee voted 20-2 that the 'benefit/risk balance did not support the approval of JZP-6', which is better known as the date-rape drug GHB (gamma-hydroxybutyric acid).
This hasn't stopped the FDA from previously approving the drug to treat cataplexy and excessive daytime sleepiness in patients with narcolepsy.
Fitting end for perampanel trial
Japanese pharma giant Eisai has reported positive results from a Phase III clinical trial of its investigational epilepsy drug perampanel.
The drug is a first-in-class, selective non-competitive AMPA-type glutamate receptor antagonist and was originally being developed for use as a therapy for Parkinson's disease until it failed to hit clinical targets during a Phase III trial.
While the company is yet to release full details of the '306′ trial, the company said the trial showed the drug was well-tolerated and proved effective in reducing the frequency of epileptic seizures and increasing responder rates.
INDUSTRY
Chemtura settles contamination claims
The US Environmental Protection Agency (EPA) has come to a settlement with Chemtura over its environmental liabilities at 17 sites. The company, which applied for Chapter 11 bankruptcy protection in March 2009, has agreed to pay $26 million to clean up a number sites protected by the US Superfund, and for violations of the Clean Air Act, the Clean Water Act, and the Emergency Planning and Community Right-to-Know Act.
12 of the sites are currently on the EPA's list of the most serious hazardous waste sites requiring cleanup in the country. Much of the money will be used by the EPA to pay for future clean up work, with some $8 million already set aside to assist the cleanup and restoration of the Diamond Alkali Superfund Site in New Jersey.
However, the settlement does not resolve Chemtura's liabilities arising from the Gowanus Canal Superfund site, which are expressly excluded from the scope of the settlement and remain the subject of ongoing negotiation.
Super Nova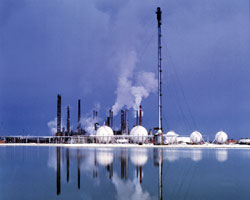 Increased demand has seen olefins expert Nova Chemicals record a 57 per cent increase in second quarter revenues, which grew to $1.6 billion compared to $1 billion in the same period last year. In combination with higher margins, the increase in demand helped the company's operating profits increase nearly three-fold to $245 million during the quarter.
As reported by Chemistry World, in April 2009 Abu Dhabi-owned energy company Ipic (International Petroleum Investment Company) agreed to buy troubled Canadian petrochemicals company Nova in a deal worth over $2.3 billion after it was caught off-guard by the severity of the economic downturn.
Agrium and out
Canadian agrochemical company Agrium looks set to buy Australian agribusiness firm AWB after AWB's board recommended its shareholders accept Agrium's A$1.50 (£0.85) per share offer. The deal, valued at A$1.2 billion, will see Agrium gain a strong foothold in Australia from which it can sell the fertiliser it produces and provide a 'larger, stronger platform to support Agrium's future growth, particularly into South East Asian region'.
Matt Wilkinson