While the pharmaceutical industry is teetering on the edge of a patent cliff that looks set to erode over $60 billion (£39 billion) off the industry's annual sales, the once overlooked vaccine market looks set to help make up for some of those losses.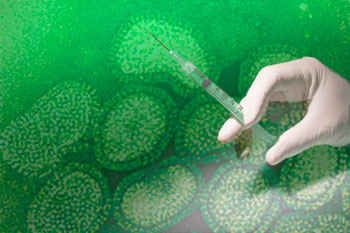 According to a new report by healthcare market research publisher Kalorama Information, the vaccine market is predicted to increase by almost 10 per cent per year during the next 5 years. The authors of the report, Vaccines 2010: World Market Analysis, Key Players, and Critical Trends in a Fast-Changing Industry, state that the paediatric market will continue to outpace the adult market due to the rapid uptake of pneumococcal and 'combination' DTaP (diphtheria, tetanus, and pertussis) vaccines.
'We've forecasted a high growth rate for vaccines over the past few years and market events have matched our predictions,' said Bruce Carlson, publisher at Kalorama Information.
'The vaccine business is not without its risks, but for some companies, vaccines were the only bright spot in their portfolio in 2009. It's not a surprise therefore that development is heavy in this sector, and that will contribute to growth over the next five years.'
GlaxoSmithKline (GSK) currently controls around a quarter of the world's vaccine market thanks to its influenza products, while Merck & Co., Sanofi Pasteur, Pfizer and Novartis are the other major players dominating the market.
PHARMACEUTICALS
Quark's silent treatments charm Novartis
Gene silencing expert Quark Pharamaceuticals has licensed an experimental kidney drug to Swiss pharma giant Novartis in a deal that could be worth up to $680 million.
The drug, QPI-1002, temporarily inhibits the expression of the stress-response gene p53 and is currently in Phase II clinical trials to assess its ability to prevent acute kidney injury (AKI) in patients undergoing cardiac surgery and for delayed graft function (DGF) in kidney transplant patients.
'The gene target of QPI-1002, p53, is a major player in apoptotic cell death; its temporary suppression rescues cells, prevents them from dying in conditions of severe stress such as ischemia, potentially opening opportunities for Novartis to novel treatments in additional indications,' said Daniel Zurr, Quark's chief executive.
The drug is the first synthetic small interfereing RNA (siRNA) to be administered systemically to humans.
Lilly gets some good news
Just days after US pharma company Eli Lilly halted trials of its lead Alzheimer's drug, the company has received a welcome boost from the US Food and Drug Administration (FDA). The drug regulator's Anesthetic and Life Support Drugs Advisory Committee has voted in favour of expanding the number of ailments Lilly's antidepressant Cymbalta (duloxetine) can be prescribed to.
The committee reviewed studies into the drug's safety and efficacy at treating chronic lower back pain and chronic pain due to osteoarthritis of the knee, but as yet the 'broader pain population.. will be further defined by the FDA'.
The drug is a serotonin- norepinephrine reuptake inhibitor and while the drug's exact mechanism of action is unknown, it is believed it increases the activity of serotonin and norepinephrine – believed to mediate core mood symptoms and help regulate the perception of pain.
LABORATORY
Ion for Life
Gene sequencing company Ion Torrent has agreed to be bought by Life Technologies for a deal that could be worth up $725 million. The deal will add Ion Torrent's semiconductor chip-based sequencing technology to Life's existing stable of sequencing technologies that include the SOLiD sequencing systems and various other techniques based on the polymerase chain reaction (PCR).
'We believe Ion Torrent's technology will represent a profound change for the life sciences industry, as fundamental as the one we saw with the introduction of quantitative PCR,' said Gregory Lucier, Life's chief executive. 'This technology will usher in a new era in science, one in which DNA sequencing can be done easier, faster and more cost effectively than ever before.'
The deal sees Life  step up its bid to win the race for the $1000 genome which is being hotly fought by companies such as Oxford Nanopore and its partner Illumina and IBM in collaboration with Roche's Life Science subsidiary.
Interestingly, Ion Torrent was set up by Jonathan Rothberg, founder of 454 Life Sciences which developed Roche's current line of gene sequencing instruments.
INDUSTRY
BHP gets hostile
Australian mining company BHP Billiton has launched a $39 billion hostile takeover bid for Canadian fertiliser company PotashCorp. The move follows PotashCorp's rejection of an approach from BHP last week and is yet another example of the strong growth being experienced in the fertiliser industry – as highlighted by the bitter turf war to takeover Terra Industries.
The offer is a 20 per cent premium over PotashCorp's closing price on 11 August – the day before it made its initial approach – and 32 per cent over its average trading price for the 30 days before the 11 August.
PotashCorp has said that the proposal substantially undervalues the company and has recommended that shareholders do not accept the offer and has announced that its board of directors has adopted a 'poison pill' shareholder rights plan to try to fight off the takeover bid.
'Global demand for food is steadily increasing, creating an attractive operating environment for the entire fertiliser industry and, with our premier position, PotashCorp is uniquely poised to benefit,' says PotashCorp's chief executive Bill Doyle. 'With our unmatched asset base and proven strategies, we believe we are well positioned to exceed the expectations of customers around the world and deliver compelling value to our shareholders.'
Mitsui buys AgriGuard
Japanese chemical company Mitsui has entered into an agreement to buy Dublin, Ireland-based agrochemical company AgriGuard for an undisclosed amount. The purchase of AgriGuard, which manufactures and distributes off-patent agrichemicals for arable crops such as cereals and oilseed rape, will bolster Mitsui's presence in the European market. It will also combine AgriGuard's arable crop expertise with Mitsui's expertise in horticultural agrichemicals and biological pesticides.
'This acquisition by Mitsui is very exciting and provides significant growth opportunities for AgriGuard especially in continental Europe,' said Brian Parker, AgriGuard's managing director. 'We look forward to working with Mitsui and alongside their crop protection subsidiaries to further develop chemicals for the arable sector thus creating a powerful combination for success.'
Matt Wilkinson