It seems that carbon nanotubes are making waves everywhere these days, and in collaboration with kayak manufacturer Re-Turn, Bayer MaterialScience could soon be making waves in the ocean.
By coating the outer skin of kayaks and canoes with carbon nanotubes, the hull becomes much more resilient to abrasion and damage from UV light.
'We are confident that these prototypes outperform standard models in a number of areas,' explains Stein Dietrichson, general manager of Re-Turn. He also believes the flow resistance of the hull should be lower, enabling the kayak to glide through water faster, 'This makes the boat easier to paddle and translates more of the kayaker's muscle power into speed,' he says.
PHARMACEUTICALS
Lilly's development struggles continue
Eli Lilly has suffered yet another set back in its struggle to bring new drugs to the market. The US drugmaker has halted the development of semagacestat, a gamma secretase inhibitor, after results from two Phase III trials showed it failed to slow the progression of Alzheimer's disease. The trial results also showed that the drug made it harder for patients to perform everyday activities and that it was associated with worsening of clinical measures of cognition.
'This is disappointing news for the millions of Alzheimer's patients and their families worldwide who anxiously await a successful treatment for this devastating illness,' said Jan Lundberg, president of Lilly Research Laboratories. 'This is a setback, but Lilly's commitment to beating Alzheimer's will not waiver.'
The company stressed that the decision to halt trials of semagacestat would not affect the ongoing trials of solanezumab, Lilly's other compound in Phase III trials as a potential Alzheimer's treatment. While both drugs target the beta amyloid proteins believed to play a role in the disease, the drugs have different mechanisms of action.
Despite having a wealth of potential new drugs in its pipeline Lilly is coming under increasing pressure from investors to get one across the finish line, having brought just one new drug to the market in the past five years. This is a particular problem to the company as a number of its biggest selling drugs are soon to lose patent protection.
'Despite this and other recent setbacks, Eli Lilly and Company remains financially strong and is even more determined to prevail in our quest to provide new treatments for Alzheimer's and other serious diseases,' said John Lechleiter, Lilly's chief executive.
Sigma relents to Aspen's advances
Following months of discussion, Sigma has agreed to sell its pharmaceuticals division to South African generics firm Aspen for A$900 million (£519 million) – a sum that will more than cover Aspen's debts of A$785 million.
The deal has taken a number of twists and turns since Aspen made it's A$1.49 billion original bid in May. However, this was slashed to A$648 million after Sigma warned its profits could be 46 per cent lower during the year than it had originally forecast.
The decision to sell the pharmaceuticals business marks the end of Sigma's ill-fated foray into the generics drugs business which began with it's A$2.2 billion merger with Arrow in 2005. Following the sale, Sigma will be left with its healthcare division which has retail and wholesale distribution arms that sell drugs to pharmacists.
'Sigma will emerge after the sale in a financially powerful position for future growth and business improvement under the company's new management team led by Mr Mark Hooper,' said Brian Jamieson, Sigma's chairman.
HRA Pharma 911 success
HRA Pharma's emergency contraceptive ella (ulipristal acetate) has been granted marketing approval by the US Food and Drug Administration (FDA). The drug, a prescription-only emergency contraceptive, will be marketed in the US by Watson Pharmaceuticals and has been marketed under the brand name ellaOne since October 2009 in 22 European countries.
LABORATORY
Bruker probes the market
Bruker has agreed to buy the scanning probe microscopy (SPM) and optical industrial metrology (OIM) instrument businesses from Veeco for $229 million (£147 million) in cash. The deal marks a major foray into microscopy business and Bruker expects the product lines to bolster its position in the materials analysis market, complementing its x-ray diffraction, x-ray fluorescence and x-ray microanalysis systems.
'Veeco's SPM and OIM systems fit perfectly into Bruker's high-performance scientific instruments strategy, and are highly complementary to our existing product portfolio. We believe that this acquisition will expand the total addressable market segments for our materials and nanotechnology research and analysis systems to over $2 billion annually,' said Frank Laukien, Bruker's chief executive.
'We are very impressed by the recent turnaround in the Veeco SPM and OIM instruments business, which was accomplished primarily through significant investment in research and development, and a drive for operational excellence and margin improvement. This successful initiative has resulted in an impressive array of novel, proprietary technologies and innovative, customer-oriented products in the last two years.'
The company has said it intends to retain the vast majority of the present SPM and OIM business management, operations, research and development, sales and marketing and service personnel.
INDUSTRY
LyondellBasell makes strong start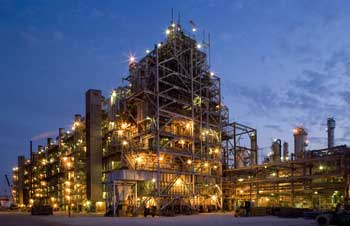 LyondellBasell marked a strong start to its post-bankruptcy era by recording second quarter sales of $10.5 billion – a 40 per cent increase compared to the same period in 2009 and 7 per cent up on the first quarter of the year. The increase in sales led to operating profits increasing more than eight-fold to $745 million – helped by strong profit margins on its sales of ethene-derived products.
Excluding an $8.8 billion after tax gain on the discharge of a number of liabilities related to its exit from Chapter 11 bankruptcy protection, the company made a net profit of $203 million.
'We emerged from Chapter 11 as a much stronger company,' said Jim Gallogly, chief executive of LyondellBasell. 'Our significantly improved capital and cost structures, coupled with our industry-defining technologies and new management team, position us as a formidable competitor for the future. I am extremely proud of the job our employees have done to restructure the company and move us through bankruptcy in such a short time.'
Hexion back in black
US speciality chemicals maker Hexion has seen its second quarter sales increase 37 per cent to $1.3 billion compared to the same period in 2009 – primarily due to increased demand and higher selling prices. In combination with the increase in sales, cost-cutting measures helped the company back into the black with operating profits of $138 million for the quarter – during the second quarter of 2009 the company made an operating loss of $9 million.
'Our strong results reflect improved overall demand as well as leverage from our ongoing productivity initiatives. In the second quarter of 2010, we experienced volume increases of approximately 30 per cent versus the prior year period and 8 per cent sequentially,' said Craig Morrison, Hexion's chief executive.
JM divests Vertec
Catalysis expert Johnson Matthey (JM) has agreed to sell its organo-titanate business, Vertec, to India's Dorf Ketal Chemicals for £4.6 million. The company makes esterification catalysts that are most commonly used to make plasticisers, acrylates, fine chemical intermediates, esters and amides.
Dorf Ketal is one of the world's largest manufacturers of formulation-based speciality chemicals and is buying JM's customer list and order book.
While JM plans to close the Vertec manufacturing site in Billington, UK in 2011 it plans to redeploy the 'vast majority' of the 50 affected employees to its other operations in the area.
Matt Wilkinson