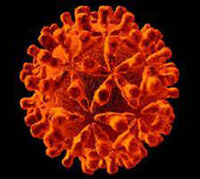 US-based Vertex Pharmaceuticals has released results from a Phase III clinical trial of its experimental hepatitis C therapy, telaprevir, that show it can cure 72 per cent of previously untreated patients – many of them in six weeks less than the standard 48 week treatment regime.
That reduction in time could prove to be a key selling point for the drug as many patients suffer from unpleasant side effects from the standard treatment, which more often than not fails to cure the condition. However, the drug still needs to be taken with the standard treatment which combines alpha interferon with the general antiviral therapy ribavarin.
The results seem to position Vertex's therapy ahead of Merck & Co.'s competitor, boceprevir, but regardless of which drug turns out to be more effective HCV sufferers are likely to have a better prognosis if either drug successfully makes it to market – and that could be early next year.
PHARMACEUTICALS
Galapagos reclaims rights to arthritis drug
Belgian drugmaker Galapagos has reacquired the rights to the arthritis drug GLPG0634, a small molecule drug that had been part of its arthritis alliance with GlaxoSmithKline (GSK).
Galapagos has said it is starting a Phase I trial of the orally available drug which selectively targets Janus kinase (JAK) 1 and 2.
'JAK inhibitors have shown great efficacy in rheumatoid arthritis trials recently. GLPG0634 has a competitive therapeutic profile and we believe that this is an attractive compound to take into development,' said Onno van de Stolpe, chief executive of Galapagos.
'We are pleased that we have been able to acquire the rights to the molecule from GSK, and we look forward to the results of the clinical study, with the aim to out-license the program at a later stage.'
Elan postpones EDT divestment
Irish biopharma firm Elan has decided to postpone the sale or spin-off its drug delivery unit Elan Drug Technologies (EDT) as 'market conditions at this time are not conducive to an appropriate valuation'.
The company has said that while it will not start a process to pursue the separation of the EDT business from its BioNeurology business it may look to do so in the future. In the meantime, the company said it 'will continue to focus on growing the EDT business in terms of revenues, profits, and cash flow' and that it is 'committed to consolidating its position as the world's leading drug delivery business'.
The company has also said it plans to restructure its debt and aims to pay off $500 million (£318 million) of outstanding debts that will mature in November.
INDUSTRY
Lanxess takes the racing line
German plastics and rubber expert Lanxess has said its second quarter sales have raced up 48 per cent to €1.8 billion (£1.5 billion), compared to the same period last year. The company attributed the strong sales growth to its 'strategic positioning in the emerging markets', with Latin America, the Asia-Pacific region and the BRIC countries (Brazil, Russia, India and China) now accounting for nearly 60 per cent of the company's sales.
'The strong results clearly underline that Lanxess is benefiting from its strategy to focus on premium products serving mega-trends such as mobility in the emerging markets,' said Axel Heitmann, chief executive of Lanxess.
The company said its performance polymers segment was its key growth driver, which increased its sales by more than 71 per cent to reach €958 million.
The company's earnings before interest, taxation depreciation and amortisation (EBITDA) more than doubled to reach €269 million and its net income increased more than seven-fold to reach €131 million.
As a consequence of the company's positive business development, it has decided to partly halt its 'challenge 09-12' programme which was designed to see it through the recession. More than 6000 non-managerial German employees will receive their full Christmas allowance again and the majority of non-managerial staff will return to a full working week as of 1 January, 2011.
Dow Corning secures feedstocks
In a bid to secure access to more of its critical feedstocks, Dow Corning has agreed to buy a 49 per cent stake in Timminco's silicon metal manufacturing facility in Bécancour, Quebec. The facility will initially produce 47,000 tonnes of 'silicon metal' of which Dow Corning will receive 49 per cent for its investment of around $40 million.
'This acquisition is well aligned with Dow Corning's global strategy of securing an efficient and sustainable supply of this critical raw material used to manufacture all of our silicon-based products,' said Robert Hansen, Dow Corning's executive vice president of core products.
DSM to sell Special Products unit
DSM has said it will sell its special products business unit to Emerald Performance Materials and expects a 'small book profit' from the sale. The business unit is a leading producer of benzoic acid and other chemicals derived from the oxidation of toluene.
This is the second time that DSM has tried to sell the business. Its attempt in early 2008 to sell the business to Arsenal Capital Partners was thwarted by the European Commission, which believed that Arsenal would hold a monopoly if the sale went through.
The announcement was hidden away towards the end of the company's second quarter financial report, which can be found here.
Teijin buys silicon printing company
Japanese chemical giant Teijin has bought US silicon nanoparticles expert NanoGram for an undisclosed amount. The two companies had been working together since April 2009 to develop NanoGram's printed silicon ink technology to work with Teijin's flexible substrates for printed electronics – a development that could rewrite the book for e-readers.
The technology is also expected to be useful for making solar cells and LCD TVs – and could potentially lower their weight by around 50 per cent as thinner substrates could be used to manufacture them.
Following the takeover, NanoGram will be led by Teijin's Ichiro Kobayashi who said: 'we have had great results working with NanoGram in the laboratory [and] Teijin is excited to couple its expertise with NanoGram's technology to capitalise on the expanding markets for flexible displays and printed semiconductor materials.'
Matt Wilkinson