It's financials season again, and while the majority of pharamceutical and chemical companies seem to be relatively optimistic about the future, some doubt remains about the strength of the recovery. Earlier today, the UK's Office for National Statistics announced that the UK's economy grew by 1.1 per cent between April and June 2010 – the fastest quarterly expansion by the UK since 2006.
PHARMACEUTICALS
Roche confident despite increasingly challenging market
Swiss pharma giant Roche has seen its sales for the first 6 months of 2010 grow 3 per cent to CHF24.6 billion (£15.1 billion). The group's operating profits increased 'significantly faster than sales', growing 10 per cent to CHF8.8 billion.
The group's 37 per cent increase in net income to CHF5.6 billion was ascribed to 'lower exceptional expenses relating to integration of Genentech'.
According to Severin Schwan, Roche's chief executive, 'despite an increasingly challenging market environment' Roche had 'achieved a strong operating performance'.
He also said that the company had submitted its 'armed antibody' T-DM1 to US regulators for the treatment of HER-2 positive breast cancer, a move that 'represents a major step towards offering this innovative medicine to patients who have very limited treatment options'.
Legal costs dent GSK results
Despite seeing sales grow 4 per cent to reach £7 billion during the quarter, GlaxoSmithKline (GSK) slipped into the red after restructuring and legal charges wiped out its profits. Those profits had already been dented by rising costs at the company which caused its operating profits to fall 80 per cent to £641 million during the quarter.
Major restructuring charges, knocked £590 million off this figure and legal costs associated primarily with the legal settlements of lawsuits related to its antidepressant Paxil (paroxetine) and its diabetes drug Avandia (rosiglitazone) caused the company to record a net loss of £304 million for the period.
But Andrew Witty, the company's chief executive, was confident that the firm was making progress in building 'our group of healthcare businesses which offer sustainable growth and have complementary risk/value profiles. At the same time, we have also taken action to drive improved returns on invested capital in our core R&D operation.'
Witty also announced the company had decided 'to progress five new assets into Phase III development. These include two oncology candidates targeting melanoma, a cancer with significant unmet medical need and potential new assets for HIV and for Duchenne Muscular Dystrophy. We are also progressing a vaccine for prevention of shingles.'
Abbott performs 'reliably'

Abbott Laboratories has seen its second quarter sales increase 18 per cent to $8.8 billion (£5.7 billion), but despite this the company saw its operating profits fall 3.9 per cent to $1.6 billion.
'Abbott's diverse sources of earnings growth led to strong financial results again this quarter, continuing Abbott's record of steady, reliable performance,' said Miles White, chief executive of Abbott.
'We also strengthened our emerging markets presence with the announced acquisition of Piramal Healthcare Solutions, giving Abbott the number-one position in the fast-growing Indian pharmaceutical market.'
INDUSTRY
Air Products up the ante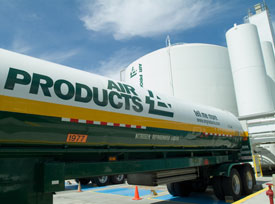 Following Airgas's decision to reject Air Products $63.5 per share hostile takeover bid, Air Products has written a letter to Airgas shareholders urging them to tender their shares if they 'do not support the Airgas Board's "just say no" approach' to the takeover.
Airgas has responded by saying 'the letter from Air Products is just another attempt to facilitate its grossly inadequate offer and distract stockholder attention from what we believe to be obvious – that the offer fails to fairly compensate stockholders for the value inherent in Airgas and its future prospects'
Air Products made its first approach for Airgas in February.
AkzoNobel 'cautiously optimisitc'
AkzoNobel is 'cautiously optimistic in spite of continuing economic uncertainty' after seeing its revenues soar 13 per cent to €3.9 billion (£3.2 billion) during the second quarter of 2010. Operating profits rose 27 per cent compared to the same period last year, reaching €466 million.
Sales from its performance coating division grew 19 per cent to €1.26 billion, while sales from its speciality chemicals unit grew 14 per cent to €1.26 billion.
'Our Q2 results show a further increase of revenue and profitability across each of AkzoNobel's business areas, evidencing that we are benefiting from the recovery and our on-going restructuring,' said Hans Wijers, AkzoNobel's chief executive.
'With the ICI integration complete and a number of important targets having been achieved, we can concentrate fully on accelerating our growth agenda and building our presence in key strategic markets.'
Syngenta stifled
Despite seeing its sales rise by 1 per cent during the first half of 2010 to $6.7 billion, agrochemical giant Syngenta, saw its operating profits fall 13 per cent to $1.6 billion, compared to the first 6 months of 2009.
The company, which does not provide detailed second quarter results, says that sales of seeds are accelerating and that investments in emerging markets has led to sales to those regions increasing 15 per cent.
'After a slow first quarter start, demand for our products has increased significantly in 2010, following a 2009 season characterised by low pest pressure and credit constraint,' said Mike Mack, the company's chief executive. 'In the emerging markets we saw a strong performance throughout the first half, particularly in Latin America, as growers continued to invest in new technology.'
Shin-Etsu sees 'movement towards economic recovery'
Despite Japanese chemical giant Shin-Etsu's first quarter sales (the 3 months ending June 30) soaring 37 per cent to ¥260 billion (£1.9 billion), sales were still below pre-recession levels. The increased sales volumes helped its quarterly operating profits grow 75 per cent to ¥36 billion.
The company said that during the first quarter of its 2011 accounting year, there had been 'movement towards economic recovery' centring on China, however in Europe and the US 'a delay in recovery became apparent'.
Matt Wilkinson