The world of plastics is not often considered to  be particularly fast paced, but Bayer has shown that viewpoint to be a fallacy, by providing the polycarbonate for the new transparent (and removable) panoramic roof for the new Bugatti Veyron 16.4 Grand Sport, which can reach speeds of over 400 km/h.
'To make the roof easy to handle and also reduce its weight significantly, we opted to use Makrolon in our design. This polycarbonate from Bayer MaterialScience is an established material for the series production of lightweight automotive glazing,' said Daniel Starmann, glazing project manager in Bugatti's exterior engineering department.
The roof material contains filters that remove infra red and ultra violet radiation from sunlight and minimise solar warming of the car as well as reducing the chances of sunburn (compared with not having a roof) – ensuring you always look cool when getting out of one of the fastest and most expensive cars ever made!
PHARMACEUTICALS
Russia gives world's first thumbs up for an oral MS drug
Merck KGaA has won the race to get approval for an oral multiple sclerosis (MS) drug. The approval of Merck's cladribine could help the company steal a march in Europe on Novartis's rival oral MS drug fingolimod – although the Swiss company is ahead in the US after a Food and Drug Administration (FDA) panel recommended fingolimod for approval.
The German drug maker plans to market cladribine in Russia under the trade name Movectro and is planning the market launch for early 2011.
'This approval for cladribine tablets means that people with multiple sclerosis in Russia will benefit soon from this effective oral treatment,' said Elmar Schnee, head of the Merck KGaA's Merck Serono division. 'This is an important milestone reinforcing Merck Serono's leadership position and ongoing commitment to fight against the devastating disease of multiple sclerosis.'
Silence is golden for AZ
AstraZeneca (AZ) has extended its research and development agreement with UK-based siRNA expert Silence Therapeutics for a further year. The original deal was signed in July 2007 and since then the collaboration to identify and develop five siRNA molecules has 'progressed well'.
The agreement follows the extension in April of a separate collaboration between the two companies in which they aim to develop new methods of delivering siRNA.
'AZ remains committed to the development of new therapeutic technologies that have the potential to create novel therapies. We are very pleased with the progress we have made in our collaborative agreement with Silence Therapeutics,' said Thomas Eichholtz, vice president respiratory and inflammation research at AZ.
J&J widens recall net again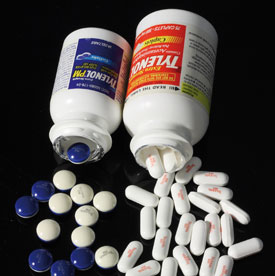 Johnson & Johnson's (J&J) McNeil Consumer Healthcare division has recalled a further 21 lots of over the counter medicines sold in the US, Fiji, Guatemala, Dominican Republic, Puerto Rico, Trinidad and Tobago, and Jamaica.
The recall again includes Benadryl (diphenhydramine) and various strengths and formulations of Tylenol (paracetamol) because of a musty or mouldy odour linked to the presence of trace amounts of 2,4,6-tribromoanisole – formed by the breakdown of the fungicide 2,4,6-tribromophenol which is often found in the wooden pallets used to transport packaging materials. Click here for a special report.
Roche links up with MRCT

Roche's Genentech division has licensed a series of small molecule drug candidates for the potential treatment of neurological disease from the UK's Medical Research Council Technology (MRCT). The agreement will see MRCT receive an upfront payment, development milestone payments and royalties on sales and comes just a week after MRCT linked up with AZ to share access to a number of compound libraries.
'We are delighted that we have been able to partner this programme with Genentech, and extremely pleased that the terms of our agreement reflect the value of the small molecule drug discovery programme and support our innovative business model,' said Dave Tapolczay, chief executive of MRCT.
'This licensing deal is just one example of the innovative ways that MRCT is now exploiting both its small molecule and therapeutic antibody capabilities.'
INDUSTRY
Chemtura extends bankruptcy protection
Chemtura has amended the terms of its Chapter 11 bankruptcy reorganisation plan to include its Canadian subsidiary. The company was hit hard by the reduction indemand for chemicals caused by the credit crunch and filed for Chapter 11 bankruptcy protection in March 2009.
According to the company, the move should enable it to resolve its product liabilities over the flavouring chemical diacetyl – which is thought to cause lung disease when inhaled in large quantities – for both parent and subsidiary at the same time.
'The filing of our revised plan and disclosure statement represents further progress in our restructuring and another step toward emerging in the coming months,' said Craig Rogerson, Chemtura's chief executive.
'We determined, with the support of our major constituents, that a court-supervised process for Chemtura Canada on an accelerated basis is the fastest and most effective way to resolve certain asserted diacetyl liabilities in Canada, while ensuring that all of Chemtura Canada's other secured and unsecured claims are paid in full and in cash according to their normal terms.'
Bioamber licenses DuPont tech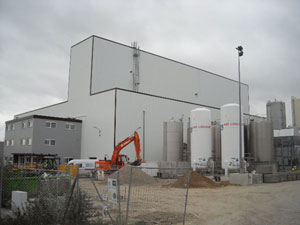 Bioamber, a joint venture between DNP Green Technology and ARD, has licensed technology from DuPont in order to accelerate its development programme after opening the world's first biobased succinic acid plant in January. As discussed in this Chemistry World special report,  biobased succinic acid has the potential to become a feedstock for a wide range of products including pharmaceuticals, coatings, polymers and resins.
Bioamber is currently developing technologies to transform biobased succinic acid into value-added derivative products and Jean-Francois Huc, president of DNP Green believes that 'DuPont's technology will accelerate our development program and shorten our time to market'.
In exchange for the licence DuPont has been granted the right of first refusal to secure products from future commercial plants developed by Bioamber.
Bayer licenses cotton tech from Syngenta
Bayer Cropscience has been granted a long-term license by Syngenta so it can use its Vipcot insect control technology in cotton. According to Syngenta, the Vipcot technology expresses two insecticidal proteins that are highly effective against a number of important cotton pests.
'Bayer is committed to being a leader in bringing innovative cotton solutions to farmers that help them tackle tough agronomic challenges and become more productive and profitable,' said Joachim Schneider, head of the bioscience business unit of Bayer Cropscience.
'We have one of the most robust cotton technology pipelines in the business, and we are pleased to be working with Syngenta to advance yet another insect control technology offering to benefit cotton farmers worldwide.'
Matt Wilkinson