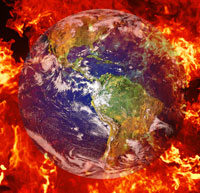 The UK's Committee on Climate Change's (CCC) second report to government has warned that despite the UK's greenhouse gas emissions falling by 1.9 per cent in 2008 and 8.6 per cent in 2009, the country needs to do more as those falls were largely due to the recession and an increase in the cost of fuel.
Many in the chemical and pharmaceutical industries are worrying that meeting stricter and stricter emission control limits will hinder the UK and Europe's competitiveness against less regulated locales.
So it is perhaps a surprise that health and personal care company Unilever has just topped the FTSE CDP carbon strategy 350 index carbon management league table, and that pharmaceutical giant GlaxoSmithKline (GSK) has come in ninth. The index 'aims to support investors in incorporating climate change risks into their investment strategy' and 'features future-oriented criteria that assess the exposure of individual companies to higher future costs associated with greenhouse gas emissions'.
Among the other companies in the top ten are telecommunications company BT, aerospace and automotive experts Rolls Royce and mobile phone firm Vodafone. Supermarket chains Morrison's and Tesco also make the top ten along with clothing and food retailer Marks & Spencer. (more…)