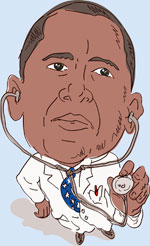 With the US coming to terms with the biggest changes to its healthcare system in 60 years, a measure hidden deep within the 2400-page law has come to light – that of comparative effectiveness. The measure will create an institute funded by around $500 million (£335 million) a year to spur studies into which drugs and devices are the most effective.
But even as many drug companies may be worrying that cheaper alternatives to their latest drugs may be more effective than their newer, more expensive drugs, Biogen Idec and Elan have decided to confront the issue head on. The companies are so confident that their multiple sclerosis drug Tysabri (natalizumab) is the best on the market that they have started enrolling patients in a large head-to-head study to find out which it the best treatment for relapsing remitting multiple sclerosis.
The company will pit Tysabri against Teva's Copaxone (glatiramer acetate) and Pfizer / EMD Serono's Rebif (interferon beta-1a) in a study that is expected to enroll 1800 patients in 27 countries.
'Tysabri is a compelling treatment option that is bringing hope to many MS patients,' said Alfred Sandrock, senior vice president of neurology R&D at Biogen Idec. 'By evaluating Tysabri against other MS treatments, our goal is to provide the data needed to make better treatment decisions and improve patients' lives.'
PHARMACEUTICALS
AZ goes fishing for snails
AstraZeneca's MedImmune biologics unit is linking up with Australian biotech company Xenome to develop pain drugs from sea snail venom. AZ has been screening the company's xdiscover library of more than 2000 venom-derived compounds for hits against an undisclosed pain target involved in a key pain pathway. The pharma giant has now decided to license four of those compounds, and while financial details have not been disclosed , Xenome stands to receive milestone and regulatory payments.
The deal further emphasises AZ's externalisation push to look outside its own research labs to find new drug candidates.
Merck KGaA suspends cancer trial
Following an 'unexpected serious adverse reaction' Merck has suspended all clinical trials of its cancer vaccine Stimuvax (BLP25 liposome vaccine) as a 'precautionary measure'. The German company said that one of 30 patients participating in a Phase II clinical trial developed encephalitis – acute inflammation of the brain. The patient had received the vaccine with an 'intensified schedule of low-dose cyclophosphamide, which is not used in the other Stimuvax studies'.
The company said it will 'continue to work closely with the US Food and Drug Administration (FDA) to evaluate the implications of the adverse reaction on the clinical development programme for Stimuvax and determine the most suitable course of action'.
Vernalis feels the pain
UK-based Vernalis has seen its share price plummet after announcing that its neuropathic pain drug for diabetes patients had missed its primary endpoint in a Phase IIB clinical trial. Results from the IN-STEP trial showed the drug, V3381 (indantadol), was no more effective at treating neuropathic pain than placebo.
However, while the company has said that it is 'unlikely to conduct further studies with V3381 in neuropathic pain due to diabetes', but would complete its ongoing pilot trial of V3381 for chronic cough.
Pfizer and GSK join vaccine alliance
Both Pfizer and GlaxoSmithKline (GSK) have signed up to supply vaccines against pneumococcal disease to the world's poorest countries at massively discounted prices. The deal was brokered by the Global Alliance for Vaccines and Immunisation (GAVI), which estimates that the programme could save around 900,000 lives by 2015 and up to 7 million lives by 2030. The agreements have been funded by a 'ground breaking mechanism called an advance market commitment (AMC)' that enables vaccine makers to invest in development and manufacturing capacity in the knowledge that they will be asked to supply significant volumes of the vaccines in the future.
GSK says it will supply up to 300 million doses of Synflorix (valued at around $1.3 billion) at around 90 per cent of the usual cost and Pfizer will supply Prevnar 13 at a cost of around $7 per shot.
'The coalition that has made this possible is providing new means to transform global public health. The AMC is precisely the sort of innovative model needed to accelerate access to vaccines for people living in the poorest countries. The typical 15-20 year 'vaccine gap' between access in developed countries versus the world's poorest countries is unacceptable. This AMC means children in Africa will start to receive Synflorix this year,' said Andrew Witty, chief executive of GSK.
FDA steps in at Genzyme
Genzyme has been notified by the FDA that it intends to take enforcement action to ensure that products manufactured at its plant in Allston, US are made in compliance with good manufacturing practice (GMP) regulations.
Genzyme has struggled to get the facility up to scratch after a 2008 inspection by the FDA found a number of GMP violations. Matters then got worse when a bioreactor was found to be contaminated with Vesivirus 2117, leading to the plant's shutdown last summer for decontamination.
The company is expecting the FDA to enforce a consent decree, which would see a third party inspect and review the plant's operation for an extended period and certify compliance with FDA regulations. Under a consent decree, Genzyme also would be required to make payments to the government and could incur other costs.
The company has said that it 'expects that shipments of Cerezyme (imiglucerase for injection) and Fabrazyme (agalsidase beta), which are manufactured in Allston, will continue uninterrupted during the period of the enforcement action'.
INDUSTRY
Evonik 'mastered the crisis'
German industrial conglomerate Evonik has said it 'mastered the crisis year [of 2009] with a credible performance', and despite sales falling 18 per cent to €13 billion (£11.7 billion) the company saw its operating profits drop only 8 per cent to €1.2 billion. It also managed to reduce its debt by a quarter during the year, by paying off around €1.2 billion of loans.
The company ascribed its strong performance to effective cost-cutting and a slight upturn in demand.
Klaus Engel, the company's chairman, said that thanks to a  'tremendous performance' by the entire Evonik team, the company could present financial figures that had 'seemed unattainable in the first half of the year'.
Cambrex gets biocatalytic
Contract chemical manufacturing company  Cambrex has bought IEP, an industrial biocatalysis company for an undisclosed amount. The deal will see Cambrex gain access to IEP's toolbox of more than 100 biocatalytic enzymes that will bolster the company's ability to offer chiral chemistry services.
'In combination with our existing chiral chemistry business, the acquisition of IEP will result in Cambrex being able to offer a broad biocatalysis platform to the pharmaceutical industry,' said Steven Klosk, chief executive of Cambrex.
'We are very excited about the future growth of this business, as IEP has demonstrated the introduction of a "green" biocatalytic step in chemical synthesis that can provide significant benefits resulting in the cost efficient, commercial scale production of enantiomerically pure chemical products and intermediates. '
Altana buys Aquaprint
German speciality chemicals group Altana has bought Aquaprint to bolster its position in the market for packaging coatings and printing inks – which has been particularly resistant to the financial crisis. Aquaprint will be incorporated into the coatings and sealants division within Altana's ACETGA Terra company.
'Bolt-on acquisitions like Aquaprint make an important contribution to further consolidate the position of Altana in attractive and fast-growing niche markets,' says Matthias Wolfgruber, chief executive of Altana.
Virent and Shell start biogasoline plant
Virent and Shell have started the world's first biodiesel demonstration plant that converts plant sugars into petroleum and petroleum blend products, rather than ethanol.The plant has the capacity to produce up to 38,000 litres of petroleum per year from non-food feed stocks.
As reported in Chemistry World last June, Virent was awarded the Presidential Green Chemistry Challenge Small Business award for developing the process, which converts plant sugars into hydrocarbon molecules like those produced at a petroleum refinery.
Randy Cortright, Virent's chief technical officer, told Chemistry World that Virent's 'bio-forming' process produces between 30 and 50 per cent more energy per acre of biomass than ethanol for any given crop.
Matt Wilkinson