This week has seen the release of yet more financial results which indicate that, while the recession is still biting, things may be stabilising – at least for the time being.
PHARMACEUTICALS
Sanofi's sales grow as it invests in animal health
Sanofi-Aventis has seen its sales for the quarter increase 11.2 per cent to €7.4 billion (£6.3 billion) helped by favourable exchange rates and recent acquisitions. The French drugmaker's operating profits soared 26.8 per cent to €3.0 billion with its biggest selling drug, the diabetes drug Lantus, increasing a similar amount (26 per cent) to €792 million. Several recent studies had linked the drug to an increased incidence of cancer, but Sanofi's chief executive Chris Viehbacher said the claims 'were not at all justified'.
Meanwhile, Sanofi also announced it was buying Merck's 50 per cent share of the animal health company Merial for $4 billion (£2.4 billion). This will give Sanofi-Aventis 100 per cent ownership of the company's joint venture that started in 1997.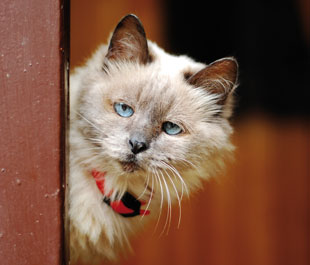 But this doesn't mean the companies are planning to cease animal heath collaborations. At the same time, it was announced that Merck, Sanofi-Aventis and Schering-Plough have signed an agreement giving Sanofi-Aventis the option, after the planned Merck/Schering-Plough merger, to combine Merial with the Intervet/Schering-Plough animal health business to form a new animal heath venture, owned equally between the 'new' Merck and Sanofi-Aventis.
For more information on animal pharmaceuticals, RSC members can read this month's feature article: Pill-popping pets.
Teva's record-breaking quarter

Israeli generics giant Teva has posted 'record-breaking finanical results' for the quarter according to Shlomo Yanai, the company's chief executive. The company's sales grew 20 per cent to $3.4 billion (£2.0 billion), partially driven by record sales of its MS (multiple sclerosis) therapy Copaxone that saw sales grow 21 per cent to $981 million. Operating profits increased 44 per cent to $981 million compared to the same quarter last year.
'This was an exciting quarter in terms of strategic achievements, as the Barr integration continues to run ahead of schedule and we are realising more synergies more quickly than we had initially forecast,' said Yanai. 'I believe that a quarter like this one when we had only one key launch, but still delivered the best numbers in our history provides a very clear demonstration of Teva's unique qualities and the strength of Teva's growth momentum.'
Crestor sales boost AstraZeneca
Sales of AstraZeneca's anticholesterol drug Crestor jumped 33 per cent during the quarter to reach $1 billion and account for 14 per cent of the pharma giants sales. This surge in sales helped the company maintain its quarterly sales at $7.9 billion – the results were dampened by currency exchange rates masking underlying sales growth of 9 per cent. Operating profits increased 37 per cent of $3.6 billion.
Lundbeck and Solvay give up on schizophrenia drug
Danish pharma company Lundbeck and Belgium's Solvay have announced that they have stopped development of their experimental schizophrenia drug – Bifeprunox. Bifeprunox, a partial dopamine and serotonin 5-HT1A agonist, has already tested on 2500 patients with schizophrenia worldwide. This move to abandon the drug came after the two companies evaluated data from Phase III clinical trials, where the drug was being tested as a maintenance treatment for the condition.
Schering-Plough moves towards FDA approval for schizophrenia drug
This week on the other side of the pond, a different treatment for schizophrenia has received better news. US-based Schering-Plough schizophrenia drug, SAPHRIS (asenapine), has obtained the backing of a US Food and Drug Administration (FDA) advisory panel. A positive outcome from this panel does not guarantee FDA approval, but it is being viewed as a positive leap forward by the company.
INDUSTRY
Bayer falls but Healthcare and CropScience grow
German chemicals giant Bayer has seen group sales fall 5.9 per cent to €8.5 billion as the recession hampered sales from its MaterialScience division, which fell 30 per cent to €1.8 billion compared to the same quarter last year. But it was not all doom and gloom at the company, as sales from its Healthcare division grew 8.3 per cent to reach €4 billion and CropScience sales grew 2.7 per cent to €1.8 billion.
Group operating profits were down 7.6 per cent to €1.1 billion.
AkzoNobel yet to see signs of growth

Dutch chemical firm AkzoNobel has seen sales volumes in the second quarter slip 16 per cent compared to the same period last year. Revenues only fell 10 per cent to  €3.7 billion and operating profits fell 12 per cent to €370 million.
'In March, we saw early indications that markets may be stabilizing and we have seen that trend continue into the second quarter. However, this gradual stabilization is at significantly lower levels than 2008. With the exception of some emerging markets, we see little significant recovery of growth,' said Hans Wijers, the company's chief executive.
Rhodia falls due to volume declines
Rhodia has seen a 20 per cent year-on-year sales decline for the quarter with net sales falling 19.6 per cent to €987 million and operating profits tumbling 67 per cent to €38 million.
'The swift and efficient adjustment of our business management processes and the powerful alignment of all our teams allowed us to generate strong Free Cash Flow during the first half of 2009 despite the very challenging environment,' said Jean-Pierre Clamadieu, Rhodia's chief executive. 'In Q3, we should benefit from increased demand in emerging markets which is now back to 2008 levels and modest improvement in Europe and North America.'
DSM goes on a selling spree
This week Dutch chemicals company DSM moved towards their end-goal to focus solely on life and material sciences, with the disposal of two other parts of their business. DSM Energy – which participates in the exploration and production of oil and gas on the Dutch Continental Shelf – is to be sold to the Abu Dhabi national energy company TAQA for €285 million. And DSM's urea licensing business, Stamicarbon, is being boought by Italian-based Maire Tecnimont for €38 million.
AGROCHEMICALS
Syngenta slumps due to currency effects
Syngenta saw sales slip 9 per cent to $6.6 billion during the quarter, the company's net income also falling 9 per cent to $1.3 billion. While sales of crop protection chemicals only increased 1 per cent to $5 billion, seed sales were up 7 per cent to $1.7 billion.
'In the first half of 2009 Syngenta achieved further underlying sales growth following an exceptional year in 2008. This performance, in the context of rigorous credit management in emerging markets and generally adverse weather conditions in the second quarter, attests to the strength of our portfolio and our leading market positions,' said Mike Mack, Syngenta's chief executive.
'We continue to make significant investments in order to secure the long term growth of our business'
Matt Wilkinson and Nina Notman