Reading this blog (well, OK, reading anything) can protect you against brain damage from lead exposure. US researchers report that the stronger readers among lead smelter workers had brains that were better protected against the effects of lead exposure.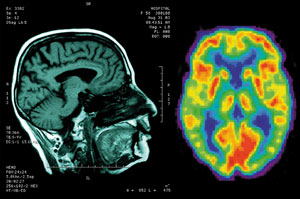 While all the workers suffered damage due to occupational lead exposure, the stronger readers' brains were better able to maintain function despite the damage – these workers' brains had a higher 'cognitive reserve'. Factors that contribute to high cognitive reserve include genetics, and education; and reading ability is a good indicator of an individual's reserve.
However, while the stronger readers performed better than their colleagues in cognitive tests, other tests on motor speed showed all the workers were equally affected by the lead, suggesting that there is no cognitive reserve effect in the part of the brain controlling motor speed, the researchers say. 
There are several theories as to how cognitive reserve actually protects the brain, including being able to use alternative brain circuits more easily, or to process tasks more effectively through existing brain circuits. But whatever the latest theory, there's no doubt you should keep reading Chemistry World.